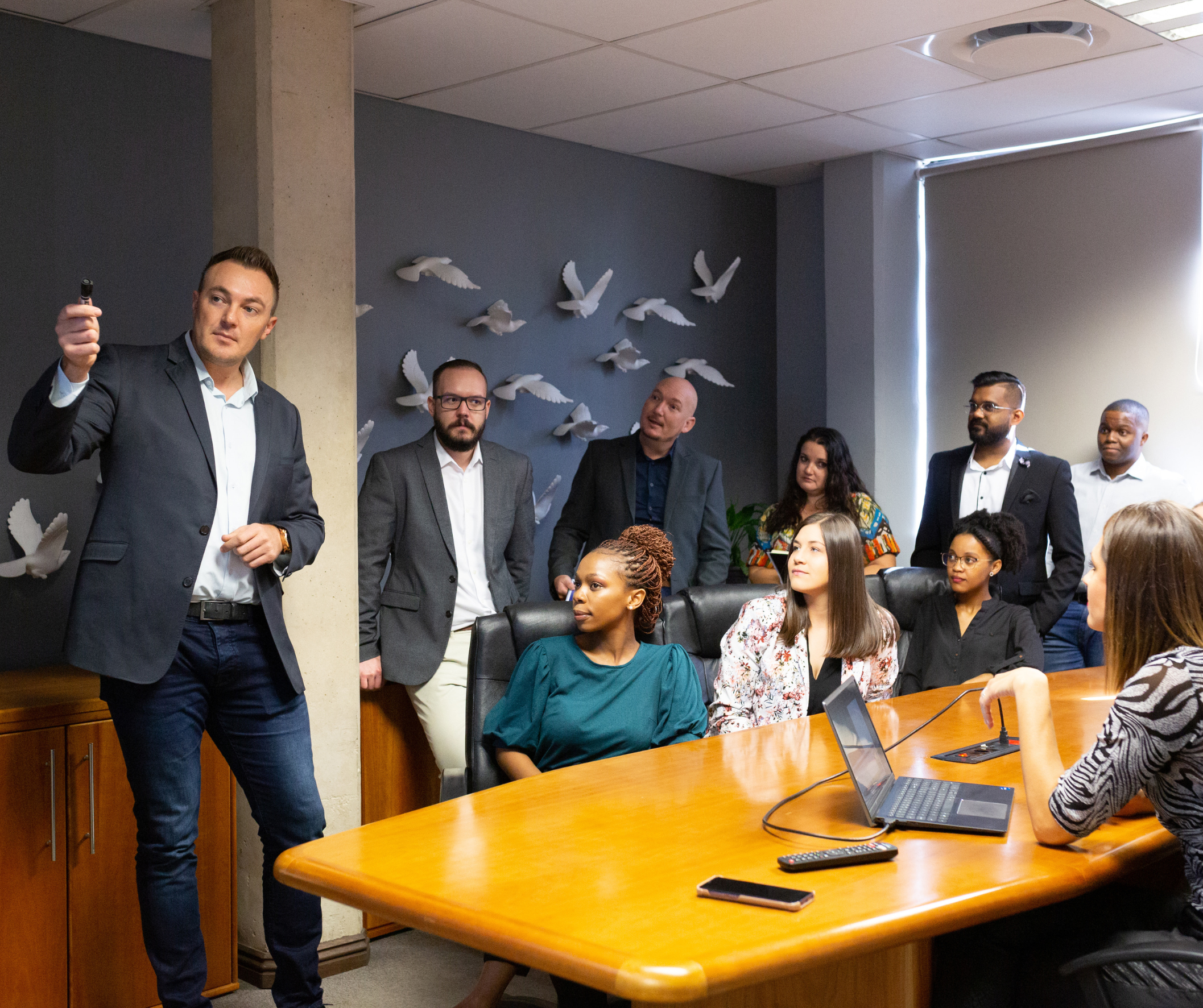 Architect and Builder article feature Jul/Aug 2023| Effective Communication: The Cornerstone of Business Success
Frederich van Niekerk
6th Sep, 2023
Architect & Builder Magazine
July/August 2023
In the dynamic and ever-evolving world of business, success is not merely a result of chance or luck. It is a carefully crafted outcome driven by a combination of strategic decisions, innovative thinking, and diligent execution. However, amidst the plethora of factors that contribute to a business's triumph, there is one fundamental aspect that stands tall as the bedrock of all achievements: effective communication. Whether it is within the organization, with customers, or with stakeholders, communication serves as the lifeblood that nurtures growth, fosters collaboration, and paves the way to success. In this article, I delve into what I believe is the significance of effective communication and its indispensable role in shaping the destiny of any thriving business.
The Power of Clarity - At the heart of effective communication lies clarity. An organization's vision, goals, and strategies must be communicated with utmost clarity to all stakeholders. Leaders who can articulate their vision in a concise and compelling manner inspire employees to share in their passion and dedication. When the path ahead is crystal clear, employees are better equipped to align their efforts and talents with the company's overarching objectives. Clarity in communication ensures that each team member knows their role, understands the collective purpose, and contributes their best to achieve success.
Fostering Collaboration and Teamwork – In today's interconnected business landscape, collaboration and teamwork are no longer optimal; they are prerequisites for growth and progress. Effective communication acts as a catalyst for collaboration, breaking down silos and connecting team members across departments, locations, and even time zones. When communication flows freely, ideas are exchanged, feedback is shared, and information is spread seamlessly, creating an environment where teams can work together to tackle complex challenges and achieve collective success.
Informed Decision-Making – is the backbone of any successful business. Leaders must rely on accurate, up-to-date information to make sound judgments that drive the organization forward. Effective communication ensures that decision-makers have access to relevant information and insights from all levels of the organization. Transparent communication channels enable leaders to gather feedback, consider various perspectives, and weigh potential outcomes before making crucial choices that align with the company's long-term goals and strategy.
Nurturing a Positive Work Culture – At AGORA our positive work culture is not just an accident, we have a different approach to our culture. From an early stage, we as the founders have cultivated various communication styles amongst our staff. Some of the communication styles included an open-door policy, encouraging our staff to come up with creative ideas on how to improve and streamline our office environment, we assigned certain company portfolios like IT, legal, admin, quality, training, social to them – encouraging them to work with us "on" the business.
When employees feel valued, respected, and heard, their morale soars, and job satisfaction increases. We have learned by actively engaging in open and transparent communication we create an atmosphere of trust and mutual respect. This culture encourages our staff to take ownership of their work, it fosters creativity and innovation, and the net effect is we have a higher productivity and reduced turnover rates.
Building Strong Client Relationships – AGORA can be viewed as a customer centric business since we act as specialist consultants for clients embarking on property development projects. Effective communication is paramount since we as project managers communicate the client's project brief to the design team - the architect and engineers. Ensuring effective communication amongst the client, fellow consultants and the main contractor serves as the main value driver for the project's success. AGORA's cost consultants responsible for the financial feasibility study and project budget relies wholeheartedly on the accuracy of the project managers communication skills when capturing the project scope from the client's brief, conveying same to the design team, and ultimately utilizing the co-ordinated design model to compile their feasibility study and project budget.
Active listening to client feedback allows us to gain valuable insights into their preferences and expectations. Promptly addressing the client's concerns and queries demonstrates a commitment to client satisfaction and builds trust and loyalty. Moreover, transparent communication about our approach, improvements and solutions shows clients that their and/or the projects needs are being prioritized, leading to increased brand loyalty and positive word-of-mouth marketing.
Navigating Through Crises – No business is immune to challenges or crises. How a company communicates during tough times can significantly impact its survival. Effective communication during crises, be it external challenges like covid 19 pandemic or internal issues, plays a crucial role in managing perceptions and maintaining trust with stakeholders. Open and honest communication fosters confidence and reassurance, even in turbulent times. Businesses that handle crises with transparency and clarity are more likely to emerge stronger and more resilient from adversity.
Empowering Marketing and Branding Efforts – Communication is at the core of marketing and branding success. Businesses must effectively their value proposition and unique selling points to their target audience. Through compelling messaging and storytelling, effective communication can resonate with customers, enabling them to connect with the brand emotionally. By understanding customer needs and communicating how the company's services fulfil those needs, businesses can create lasting impressions and build brand loyalty.
As Robert Kiyosaki describes it, communication is one of the eight fundamental legs of his BI triangle. In the dynamic world of business, effective communication is the driving force that fuels success. From providing clarity and direction to fostering collaboration and teamwork, communication serves as the cornerstone on which a business can build its growth and prosperity. By empowering decision-making, nurturing a positive work culture, and strengthening client relationships, effective communication weaves its way into every aspect of a successful business. It enables organizations to navigate through challenges, bolster marketing efforts, and unleash the power of innovation and creativity.
In today's competitive market, business leaders must recognize the significance of effective communication and invest in cultivating a culture that embraces transparent, open, and respectful communication. As the fundamental pillar of business success, effective communication is the key to unlocking the full potential of any thriving organization.